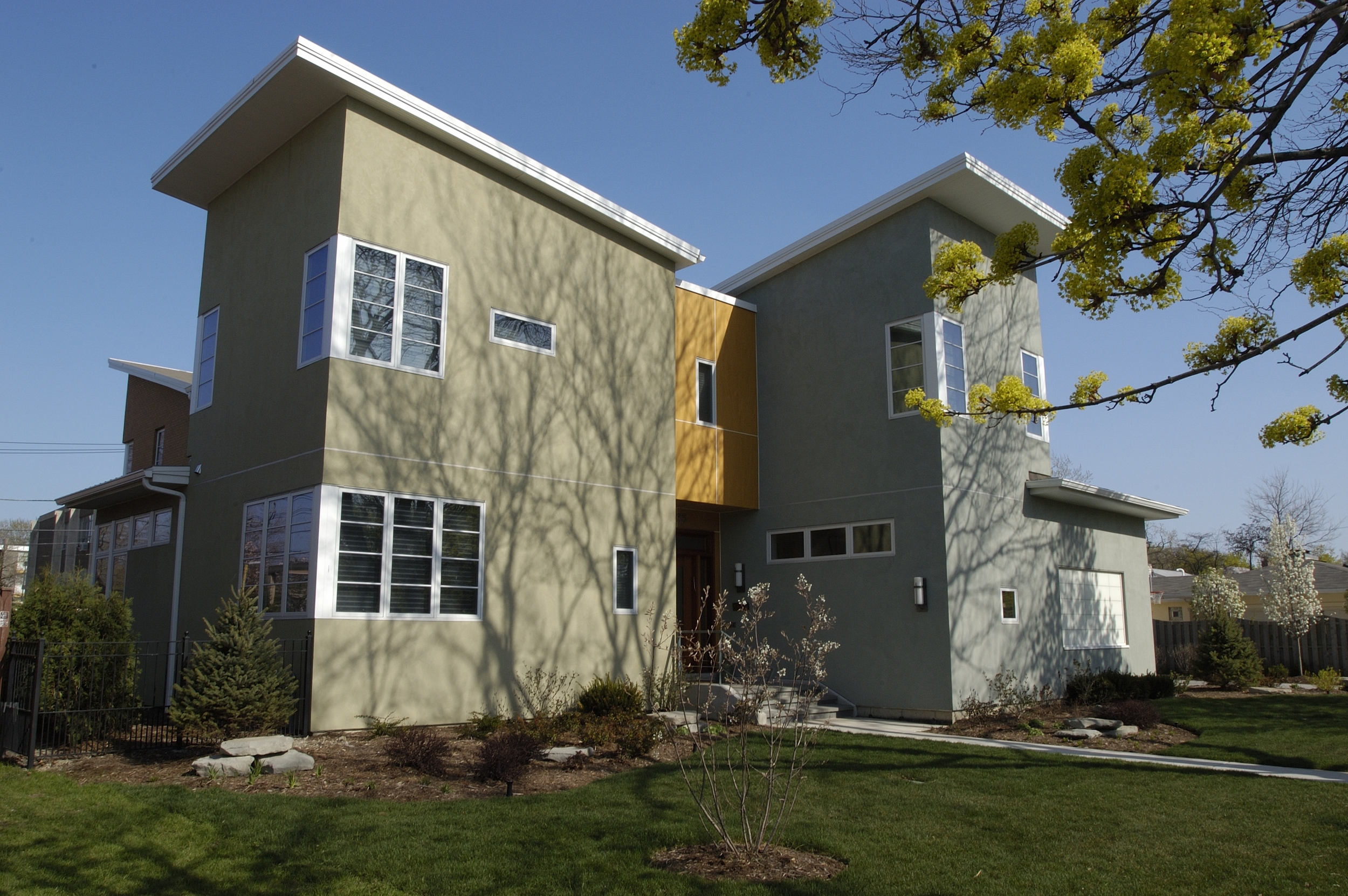 A 6,100 square foot, 6 bedroom, 4 bathroom, 2 powder room single family residence designed for an Orthodox Jewish family in the West Rogers Park neighborhood on the north side of Chicago.
The exterior is designed in a contemporary style, in which the massing is broken down into smaller volumes that reflect the nature of the interior space while defining exterior spaces that respond to different site conditions. Golden brown colored brick, natural light wood panels and three colors of stucco reinforce and add scale to the individual building volumes.
An exterior terrace located at the rear of the house is enclosed on three sides by the building and topped by a cedar trellis. This enclosure was designed to serve as a Succoth requiring the client only minimal construction by attaching a canvas wall panel to enclose the exposed fourth side.
The interior responds to the clients' request for open, light filled spaces with a variety of volumes that promote interaction in the main living spaces and provide ample privacy where desired. The first floor features a large kosher kitchen directly adjacent to a glassed in breakfast room. A large (seats 20) dining room and kitchen are connected by a butler's pantry providing additional serving space for large gatherings. The second floor bedrooms are planned to provide privacy and a unique view orientation for each space. The basement features a guest bedroom suite, a Passover kitchen and a large gathering space.
Residential Architecture
West Ridge
Type: ingle family residence
Status: ompleted 2002
Location est Ridge Neighborhood, Chicago, Illinois
Project Team
Peter Nicholas, Kirsten Rachford, Jim Malloure, khil Badjatia, Judy Deschamps
General Contractor
NCA Build, Ltd.
Awards:
The Association of Licensed Architects 2003 Design Awards, Award of Merit