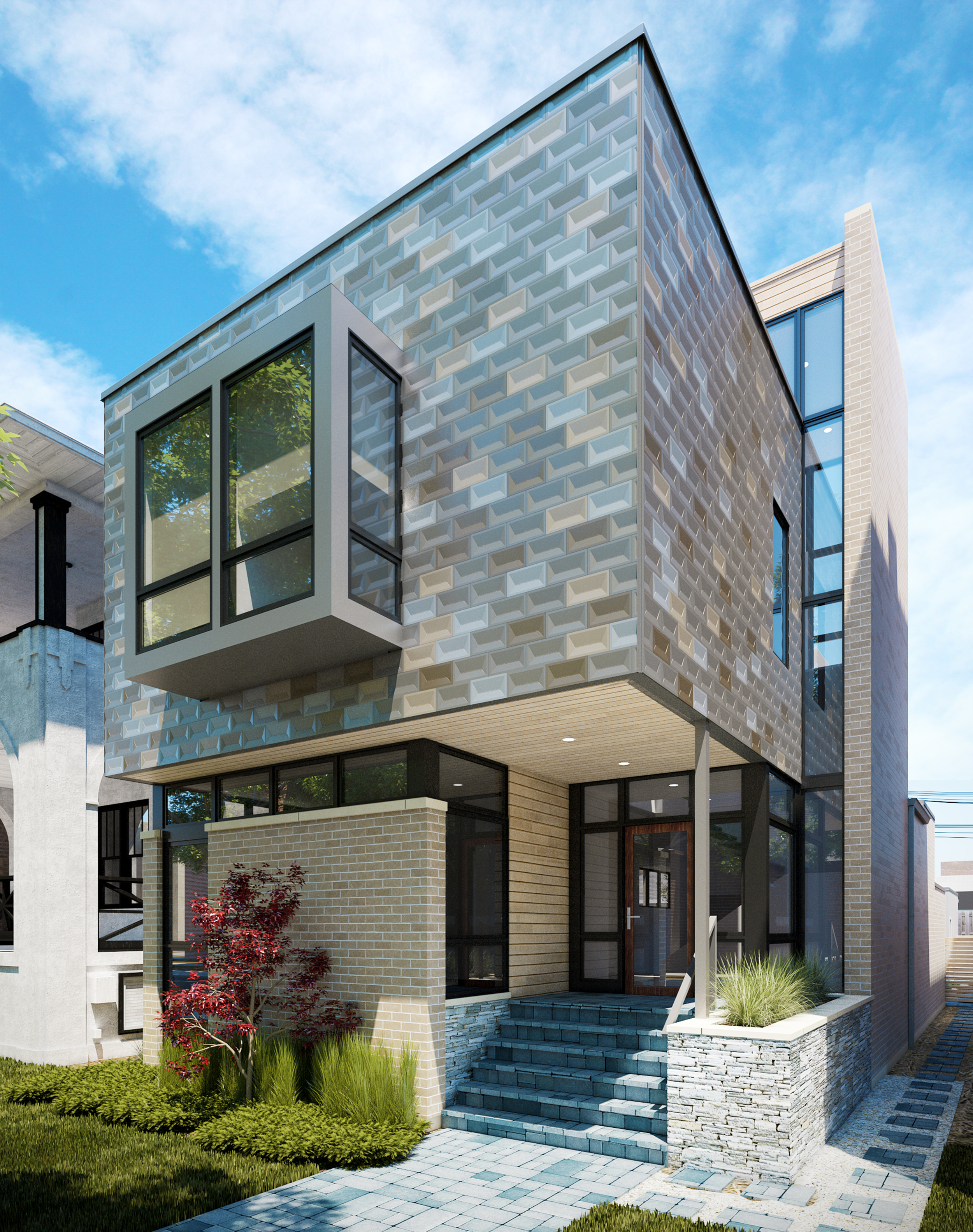 EDGEBOX is a speculative single family residence located in the heart of Magnolia Glen, in the Edgewater community of Chicago. The house is distinctive in its style but respectful to its neighbors and true to the pattern of the block on which it sits. It has 3,850 square feet of space, 3,170 of which is on the first, second and third levels with a 700 square foot basement. This is unusual in that most of houses in Chicago would normally less square footage above grade and more dark, buried basement space.
It has a total of 4 bedrooms and 4 1/2 bathrooms with a guest bedroom suite on the first floor in a room that is designed to be flexible enough to be a library or an office if the user is not inclined to use it as a bedroom. The main living space is positioneed just above grade and has 12'-6" ceilings in a lofty space the contains the kitchen, dining room and family room in the same volume. The same space has polished and stained concrete floors with radiant heating tubing embedded in the slab. The second level has three generously sized bedrooms with individual bathrooms and a laundry room. The master bedroom suite is sequestered from the other bedooms and luxuriously appointed. The third floor has a large room deck with views to the east and west.
EDGEBOX is development of Peter Nicholas of NDC and constructed by NCA Build, NDC's design build entity. Construction on EDGEBOX is anticipated to start in summer of 2016
Residential Architecture
Edgebox
Type
Single Family Residence
Status
Unbuilt
Location
Chicago, Ilinois
Project Team
Peter Nicholas
Lori Day
Gavin Bardes
Design/Build Contractor
NCA Build, Ltd.
Structural Engineer
Hutter-Trankina
MEP Engineer
Sustainable Energy Engineering Group, Inc.